The World of Dinosaurs Is Alive with DinoWorks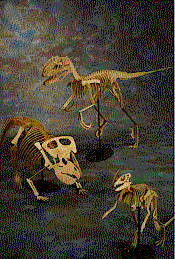 Captivate and educate your children with three life-sized, durable, hand-crafted dinosaur skeleton models made by DinoWorks of Lexington, Mass.
DinoWorks models are the only life-sized, anatomically accurate skeletons currently available for home, office, or museum use. All models come with complete illustrated assembly information and an activity guide packed with games and educational exercises which help bring the world of the dinosaur closer to children.
Three spectacular models are available:
The Heterodontosarus [Model H] is four feet in length, weighs three lbs., and includes over 30 pieces and a stand. Price $350.00
The Protoceratops [Model P] is six feet long, weighs nine lbs., and contains over 50 pieces, a stand, and four "eggs." Price $500.00
The Deinonychus [Model D] is a whopping eleven feet long, weighs ten lbs., and is made up of over 45 pieces and a stand. Price $550.00
Dinoworks dinosaurs make thrilling and fearsome additions to your classroom or children's museum space. DinoWorks models can provide you with dinosaurs that give children and paleontology enthusiasts the experience of assembling, studying, and playing with an authentically-sized and researched dinosaur.

All models are handmade and personally designed by master craftsman Ben Soule. Dinoworks is a Dinosaur Society approved product. Ask about discounts on orders of three or more models.

For more information, contact Ben Soule at debandben@rcn.com.
---
DinoWorks: life-sized, hand-crafted dinosaur skeleton models
DinoWorks, debandben@rcn.com
(781) 863-9571
101 Maple Street, Lexington, MA 02173
Last updated November 6, 2002.
Coypright 1996-2002 Ben Soule.
http://www.gurus.com/dinoworks